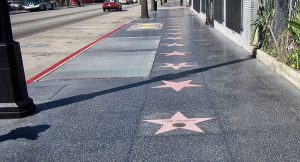 Goldie Hawn and her longtime partner Kurt Russell received the 2,609th and 2,610th stars on the Hollywood Walk of Fame on Thursday.
The couple were on hand to accept their honors, which came with congratulatory speeches by Kate Hudson, Quentin Tarantino and Reese Witherspoon.
Hawn, who received a best supporting actress Oscar in 1970 for her first major film role "Cactus Flower," spoke about how she had always wanted a normal life.
"I didn't get my white picket fence," said Hawn. "But I got a hell of a lot more."
Russell dedicated his star to Hawn, with whom he's shared his life for more than 30 years.
"And so if I'm to be honored with this sweet token of memorabilia that is to be sunk forever in the cement of a street whereupon I will be subjected to the constant harshness of the blazing California sun, blowing winds and pouring rains, and stray dogs of both the canine and human variety perhaps in need of a little relief. and trod upon by the soles of shoes caked with Earth from all corners of the globe, there's no one else I'd rather be next to for all of that than Goldie Hawn."
Hudson thanked them for their legacy, saying, "Real legacy is what they have instilled in us kids. Our tribe that they created, that they so vehemently protect and defend, the relationship they fiercely refused to lose sight of together, and the deep feeling of love and nurturing they reserve for the most important thing we have in this life, family. So that's what these stars represent to me forever. Thank you guys."
On her part, Witherspoon hailed Hawn for inspiring women and actresses.
"Since the first time I saw on screen, Goldie has just inspired me. She's taught me to want more out of my life, out of my films. And she taught me to want more out of my career and I became a producer because of her. She changes the possibilities of what women can do in film," she said.
"So thank you Goldie. Thank you for inspiring us all, all of us. Thank you for inspiring women and actresses to control their own destiny and for inspiring women to demand respect no matter where they are or what they're doing."
The duo each have movies opening this month. Russell's "Guardians of Galaxy Vol. 2" hit theaters today and Hawn's "Snatched" is due out on May 12.
Reuters