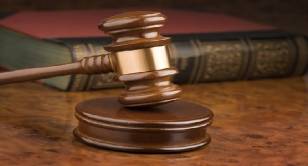 A Federal High Court sitting in Lagos, has ordered the temporary forfeiture of the sum of 449,750,000 Naira to the Federal Government, found in possession of one Mohammed Tauheed, of the LEGICO Shopping Plaza in Victoria Island.
Justice Rilwan Aikawa, who was sitting as the vacation judge, for the Easter holidays, ordered the forfeiture of the money after listening to an Ex-parte application filed and argued before his court by a counsel to the Economic and Financial Crimes Commission (EFCC), Mr Rotimi Oyedepo.
The EFCC in an affidavit sworn to by one of its operatives, Moses Awolusi, submitted that the commission received an intelligence report on April 7, 2017, that money in several Ghana must go bags were warehoused in one of the shops located at the LEGICO shopping Plaza.
The intelligence report according to the EFCC, was analysed and found worthy of investigation.
Upon inquires into the ownership of the shop (number LS64) where the exhibit was recovered, the EFCC said their investigations indicated that the shop had not been opened for close to two years.
Also, according to the commission, the Chairman and Vice Chairman of the plaza, Mr Sulaiman Mukthar Daba and Alhaji Ishaq Ayandiran, could also not trace the identity of the owner of the shop, but came to EFCC's office with one Mohammed Tauheed, who claimed ownership of the money.
He then informed the EFCC that he received the money in cash from a serving Government official whose name he would not disclose for security reasons.
The EFCC further stated that thereafter, Mohammed Tauheed in the presence of his lawyer agreed to return the money back to Federal Government of Nigeria who is the rightful owner of the money.
The anti-graft agency then concluded that Mohammed Tauheed who has been arrested in connection with the money, criminally conspired with the owner of the shop (now at large) to launder the said funds.
After laying all its facts before the court, the EFCC told Justice Aikawa that it would be in the interest of Justice if the court could, in the interim, make an order of forfeiture of the money to the Federal Government of Nigeria.
The EFCC also requested that the court allows Tauheed or any other person to be put on notice and appear before the court within 14 days to state reasons why the money found in their possession should not be permanently forfeited to the Federal Government of Nigeria.
Justice Aikawa granted the request and also ordered the EFCC to advertise the order of the court within 14 days for any interested party to come forward and convince the court as to why the money should not be permanently forfeited to the Federal Government of Nigeria.
The matter was subsequently adjourned till May 19.