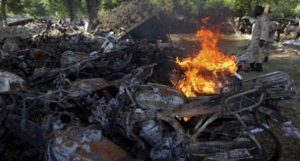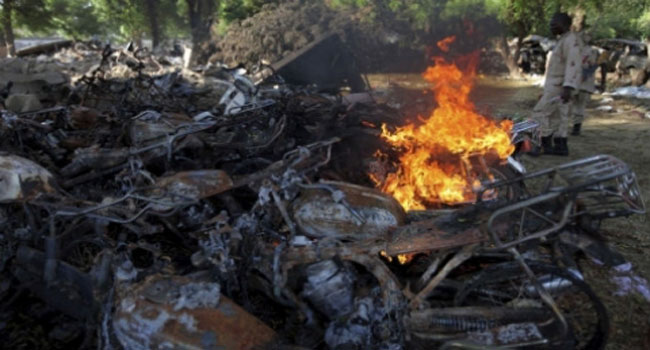 Two bomb explosions have occurred at the Eid prayer ground in Damaturu, the capital of Yobe State in Nigeria's volatile north-east.
Muslims had gathered at the ground on Friday morning to mark Eid-el-Fitr.
The first bomb went off around 7:37am close close to the phase one Eid prayer ground while the second one occurred three minutes later along Gwang Sabon Pegi Street by cemetery.
A statement by the Acting Director Army Public Relations, Colonel Sani Usman, said "two female suicide bombers – an elderly woman and a ten year old girl – detonated devices at screening areas mounted by the security for intending Muslim worshippers.
Under Control
Seven people were injured in the first explosion while eleven people were wounded in the second one. Hospital sources had earlier said about 10 persons were killed, most of whom were children.
However, the Commissioner of Police, Marcus Danladi, while giving details of how the attacks were carried out, told Channels Television that "13 people have since been confirmed dead while about 15 others are receiving treatment".
He revealed that the attacks were carried out by little girls "less than 10 years of age".
Residents have left the praying ground and returned to their homes, as ordered by security personnel.
Troops and security agencies responded immediately to the incidents and the he situation is currently under control.
The Yobe State Governor, Ibrahim Geidam and the Chief of Army Staff, Major General Tukur Yusuf Buratai have sympathised with the victims and the people of the state and urged residents to stay calm and be security conscious at all times.
"No amount of terrorist acts would deter our resolve to stamp out terrorism and insurgency in our fatherland," Colonel Usman said.
The Eid ground hit by the blast is located at an area called phase-one along Maiduguri Road.
No group has claimed the attack, but the Boko Haram terrorist group is believed to have plotted it.
Since a new government came to power in May, the terrorist group had intensified attacks on communities and places of worship, with more carried out by suicide bombers.
On Thursday, over 50 people were killed and many others injured when two bombs exploded in Gombe Central  Market.
The first bomb was said to have exploded by 5:20pm, as customers were busy making last minuets Ramadan purchases.