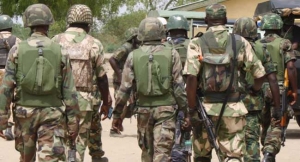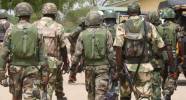 The Nigerian military are embarking on a cross-border patrol of Plateau and Kaduna states to prevent any spillover of recent attacks in Southern Kaduna region.
A joint security operative with the special task force, Operation Safe Haven is doing this in collaboration with 1 Division command of the Nigerian Army to also build confidence among the affected communities that peace has returned to.
Commander of the special task force, Major General Rogers Nicholas said that the cross border patrol is to assure citizens of adequate security.
He followed it with an appeal to the people to always report strangers and unusual movement of any group of people to security agents promptly.
"We are from special task force in Plateau state; troops of 1 Division of the Nigerian Army are already deployed here.
"We crossed over to Kaduna state primarily to support and synergize so that such attacks do not happen again.
"More soldiers are to be deployed into the affected areas and (we have) also discussed with members of the communities so that we can come up with strategies on contacting security personnel when strangers are noticed in their communities.
"There should be proper channel of communication in securing the areas through the cooperation of the people," he said.
Top military officers including senior officers of the Nigeria Security and Civil Defence Corps (NSCDC), the State Security Service as well as Police officers visited various communities that were affected by the several attacks.
The team was at the palace of Tum Nikyob of Kaninkon Chiefdom in Bakin Kogi, HRH Mallam Tanko Tete, as well as the palace of the chief of Godogodo where appeals were made for adequate security that will ensure that people that fled their communities can return.
The Tum Nikyob of Bakin Kogi assured the people of support as he asked for military presence so that the people that fled their ancestral homes can return and resume their farming and harvest crops that are ready for harvesting.
In addition to the presence of military personnel on ground, arrangements have also been concluded for day and night patrol by the military to ensure peace within affected communities.