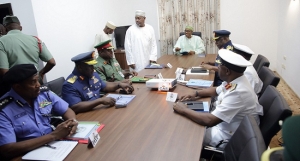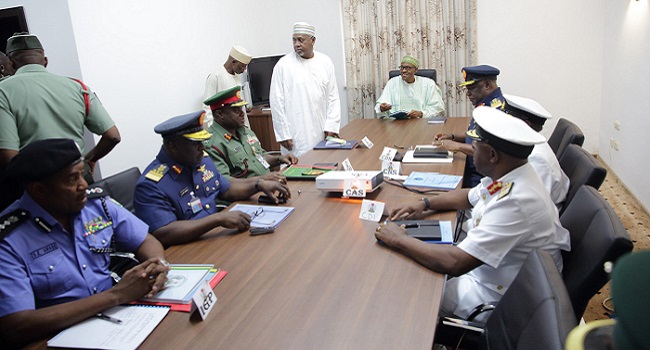 President Muhammadu Buhari has held a closed-door meeting with Service Chiefs and the National Security Adviser, Col. Sambo Dasuki, at the Defence House in Abuja, Nigeria's capital.
The meeting held on Wednesday ahead of the Lake Chad Basin Commission Meeting scheduled for Thursday is a follow up to the meeting between Ministers of Defence of the Lake Chad Basin which held on Tuesday in Abuja.
For about an hour and half, President Buhari held talks with the Service Chiefs and Col. Dasuki.
At the end of the meeting the Permanent Secretary in the Ministry of Defence, Mr Aliyu Isamila, told reporters that talks were centred on the ongoing counter-terrorism operations in the north-east.
Mr Isamila said the meeting was also held to assess the security situation and the oparationalisation of the Multi-National Joint Task Force against the backdrop of attacks by the Boko Haram sect.
President Buhari has expressed his commitment to ending the insurgency in the oil-rich nation's north-east.
Meanwhile, the Nigerian Army has announced the establishment of a Command and Control Centre in Maiduguri, the Borno State's capital in line with the President's directive in his inaugural address last month.
He expressed the belief that the relocation of the command centre to the north-east would give needed boost to the war on terror that had been on for over five years.
Also, during a G7 summit held in Germany earlier this week, the president received the support of the group's members in his effort to end the Boko Haram Insurgency.