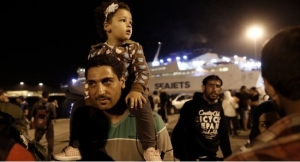 Thousands of migrants have arrived Greece's mainland, as the government prepares for talks on how to tackle the huge number of people reaching its shores.
Two ships carrying more than 4,200 people travelled to Piraeus Port at night after leaving Lesbos island.
The whole EU is struggling to deal with an unprecedented influx of migrants.
Hundreds of people, mostly from the Middle East, remained stranded outside a railway station in Hungary after police stopped them from travelling through the EU.
The EU's Border Control Agency, Frontex, said that 23,000 migrants arrived in Greece last week alone, an increase of 50% on the previous week.
More than 160,000 people have arrived in Greece so far this year which is already surpassing last year's total.
The country's government said it lacked the resources to look after that many arrivals, but aid groups said that authorities should be doing more.
On Tuesday, Greek President, Prokopis Pavlopoulos, called his French counterpart, Francois Hollande and asked that the situation facing Greece be discussed at a senior European level.
Greece's caretaker cabinet is set to convene later on Wednesday.
German Federal Police have said that a record 3,500 migrant arrivals have been registered in a southern border region with Austria since Monday morning.
The arrivals have spiked, as passenger trains, each packed with hundreds of refugees, headed from Hungary through Austria into Germany's southern Bavaria state, a spokesman said on Tuesday.
It was the highest number recorded by any of Germany's 10 Federal Police Districts since the start of the migrant crisis that is expected to bring 800,000 newcomers to Europe's top economy this year.