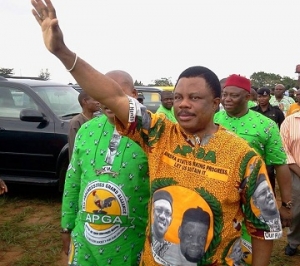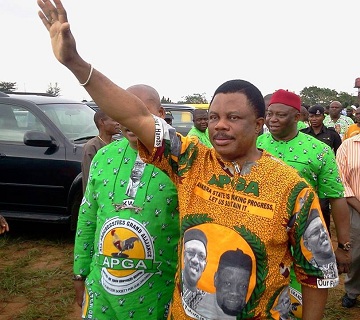 One week after former governor of Anambra state, Mr Peter Obi, left the All Progressives Grand Alliance, APGA, for the Peoples Democratic Party, PDP, members of the party trooped out in their thousands at Nnewi to reaffirm the supremacy of the party against all odds.
In a solidarity march round the commercial town of Nnewi with a stopover at Nnewi North Secretariat and Ojukwu Mausoleum, party members from the 21 Local Government Areas of the state poured encomiums on the party which they said is more of a political movement than a political party.
Marching Local Government by Local Government, the countenance of the party members were of excitement rather than disappointment as the major reason for the rally was to show that the party has been strengthened by the latest defection of the former governor and party leader, Peter Obi, instead of being weakened.
During the march, they chanted victory songs and celebrated the party's eighth year in power, in the state.
Moving into Nnewi Local Government secretariat, the State Chairman of the party, Mike Kwentoh, addressed the people, assuring them that the party would win all the elective positions in the entire southeast beginning with the 2015 general elections.
He noted that the party was disappointed by the defection of the former governor of the state, Peter Obi, after serving eight years but said that the mantle of leadership given to him by the people of the state has been withdrawn.
Afterwards, Kwentoh led the crowd to the late Emeka Ojukwu's mausoleum, where they narrated to him all that had been happening in the party and sought for guidance.
The son of the late party leader and the sole administrator of Nnewi North Local Government Area, Emeka Ojukwu, spoke last after several speakers bared their minds on the status of APGA as unshakeable in the state.
He noted that God had given Anambra a better replacement in the incumbent Governor and that the party would never see failure.
Kwentoh and Ojukwu assured the people that the party was still standing strong and tall despite the exit of the former governor, while other members of the party urged the party supporters to be steadfast while working towards achieving success in the forthcoming election.