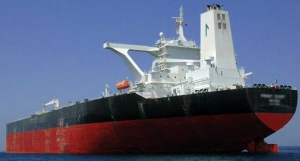 Nigeria expects oil prices to be above $45 a barrel next year, the head of state oil firm NNPC said on Thursday.
"Our firm belief is that in 2016, we will probably average above the $45 a barrel price range," Emmanuel Ibe Kachikwu told reporters in Abuja.
"We are watching the prices. If there's a need for us to meet between January and June, we will," he said, referring to discussions among members of the OPEC group of oil-exporting countries.
President Muhammadu Buhari will on Tuesday, December 22, present a 6.07 trillion Naira budget proposal to the National Assembly, which is predicated on $38 per barrel oil benchmark.

The Federal Executive Council (FEC) had on December 7 approved the Medium Term Expenditure Framework which pegs the 2016 Budget at six trillion Naira.
This decision was reached at FEC's emergency meeting presided over by President Buhari.
Briefing State House correspondents after the meeting, the Minister of National Planning, Udo Udoma, who joined the Minister of Information, Lai Mohammed, said that the crude oil price would be $38, because of the uncertainties in the price of oil.