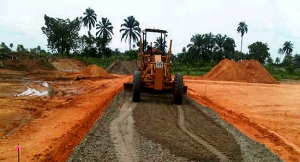 The Federal Government is set to probe the dualisation of the 362 kilometer East-west road to ascertain whether the 270 billion Naira so far spent on the project tallied with the work done so far.
The Minister of Niger Delta Affairs, Astor Uguru Usani, gave a hint about the planned probe during inspection of the Rivers-Akwa Ibom section of the road project.
According to him, his ministry will engage auditors to look into the books to ensure that contractors were guided by specifications and designs for the job.
The minister in company of the Minister of State, Professor Claudius Daramola and some senior officers of the Ministry of Niger Delta were led by the Managing Director of Reynold Construction Company (RCC) and his team  through the portion of the road the firm was handling for which 65 billion Naira had already been paid.
The minister said that the Federal Government wanted to see the completion of the road project which, according to him, had taken longer than expected.