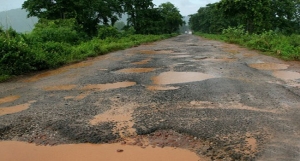 Port Harcourt, an oil city, usually gets the attention of young Nigerians in the east and even in other states, with many considering it as an oil money city.
A journey to the state through Imo State in the east use to be an excitement in the minds of whoever decides to travel, but this joy and excitement are gradually fading and turning into sadness, as a journey to the oil city through Imo State now leaves commuters exhausted.
What use to be an exciting journey has now left residents of Umuapu in Ohaji Egbema Local Government Area of Imo State as well as commuters in lamentation, with a passionate appeal to the Federal Government to make their journey exciting once again.
Work had been abandoned for over four years, with the road now in ruins.
The users are asking the government to mobilise the contractors and ask them to return to the road and resume work.
At a time that the Nigerian government is pushing economic diversification, with so much focus on agriculture as the way out of the economic recession, residents in the area are finding it had to move their farm produce to cities where they can sell them.
The condition of the road is causing untold hardship for us, as it is now difficult for us to transport our farm produce to consumers, residents of the area said.
While farmers lament the hardship, commuters, who ply the road daily, said the bad state of the road had made it easier for criminals to perpetrate their evil acts on the road such as kidnapping, car snatching and armed robbery.
They called on President Muhammadu Buhari-led Federal Government to come to their aid and fix the road for the good of the people.
Over Four Hours Journey
The Owerri-Port Harcourt federal highway is one of the important highways in the southern region of Nigeria, as it connects Imo State to other South South states like Rivers, Cross River and Bayelsa.
During its good days, which is about five years ago, travelling from Owerri to Port-Harcourt takes less than an hour.
Sadly, the once motorable federal road has now become a nightmare and death trap on the Imo end of the road. One of such spots is the Umuapu community in Ohaji Egbema, about four kilometres to the Rivers State boundary. To get to Port Harcourt, it now takes over four hours with heavy traffic.
A private car owner, Mr Derrick Nnamdi, told Channels Television that "ordinarily, though, I drive fast, it takes me approximately 45 to 50 minutes between Owerri and Port Harcourt, but now it takes over two hours to get to Port Harcourt.
"Sometimes if the community here have their market, you may spend about 50 minutes' stand still in this community before you can pass.
"After the boundary, to Port Harcourt, it is a pretty smooth drive".
A public bus driver, who plies the roads on a daily basis said: "We need road. No road for us. Every time we are suffering, especially on this federal road. They told us that within eight years this project will be completed when they started, but since that time and now there is no difference and we are still suffering. Rain or no rain, every day we suffer.
"If we buy car parts today after two days we go back to get new ones, but before now when the road was good at least our shaft use to last between four to five months before we get new ones but now only two months we buy new shaft.
"So, we need help. They should help us. From Port Harcourt the road is nice but once you enter Imo State, it is bad".
According to reports, the road was said to be awarded in 2009 by the Goodluck Jonathan's administration through the Ministry of Niger Delta Affairs to Arab Contractors at the rate of 23.1 billion Naira.
The people of the area claimed to have only seen Arab Contractors working on few kilometres of the road from Owerri to Umuagwo, a neighbouring community, where they stopped work. While the residents of the area continue to wait for the contractors to resume work on the remaining portion of the road, their wait has been to no avail.
An Indigene of Umuapu Community, Andrew Enyinnaya, gave his own side of the story.
"Infact we have been dying not even suffer for this road. Arab Contractors have been working on it. Two years ago, they stopped by three to four poles away from here. And since they stopped work, we have been dying not suffer. Even though the old road we use for by-pass is bad, trailer and big lorries have spoilt everything. There is no road, no way, no nothing. So, we have been suffering much"
"Please, you people should come and rescue us from this bad road and many things come from here, food, garri, Akpu, cassava, everything but no road to bring it to town. We are not receiving anything from the government. I am telling you the fact. Without being told you can see for yourself," Eyinnaya said.
Other commuters appealed to the Federal Government to resume work on the road especially as the yuletide season is drawing closer so people can travel freely to enjoy their Christmas and new year season with their families.
In a quest to know what could be the challenges holding the execution of the project, Channels Television visited the office of the contracting firm handling the project but could not get any useful information, as the public spokesman for Arab Contractors in the state, Mr Mark Eke, refused to speak, maintaining that he had no authority to speak on the matter.
Fortunately, the crew stumbled on the Minister of Niger Delta Affairs, Usani Uguru Usani, at a workshop he attended in Owerri the Imo State and he said that paucity of funds due to the dwindling nature nation's resources has hampered the commencement of work on the road.
The minister said: "The development of infrastructure is not a moral responsibility, it is a responsibility and duty anchored on variables which cannot be assessed in casual terms. So, when I talk about budget and development in building and construction, as a journalist, you do not expect me to begin to give you time lines. You know our budgetary allocation, It is in the website of budget and planning. So, we are dispensing resources according to what is available and according to certain laid down criteria. If we have all the money, we will give to all the contractors but even the Federal Government doesn't have all the money to sponsor all the projects that is why they are ongoing projects.
"So, we are assigning resources as we receive. knowing fully well that you cannot carry out anything beyond the budget line. All I can say is that money given to us to work we will continue to apply it. We should also be able to appeal to contractors sometimes to be able to execute according to what they get, because sometimes the work is under-performed relative to resources received."
"The situation about each road in Nigeria is not in isolation. It is the fate of collapse of infrastructure in the country. So, that this project is under the Ministry of Niger Delta Affairs is only by assignment of responsibility.
"But it is not in any way different from what is happening about infrastructure in the entire country. You know for more than seven years the total infrastructure collapse has been there and you can see that the government has made tremendous effort beginning from budget appropriation to give 30% to infrastructure, rehabilitation and development.
",So our situation is just the same but handicapped as you know our work is determinable by availability of resources or lack of same" the minister said.
When asked if there was any appeal the Federal Government had for the commuters who have been complaining of the hardship experienced on the road, the minister said: "Complaining about the Federal Government's inefficiency in working on the road is loss of sense of history. How long do you expect the road that has been dilapidated for 10 years to be taken to repairs. Meanwhile, you know that the resource base of the nation has dwindled for over many months, therefore it is difficult to expect that the hen will lay eggs for the goose, each animal species will lay its own egg, so if the public is quarrelling it is because you the journalists are telling them to quarrel".
If there is anything to go by with what the minister has just revealed, surely there seems to be no end in sight to the sufferings and hardship of commuters plying the Owerri-Port Harcourt expressway, as they will need to wait for a longer time before this road receives attention of the Federal Government.