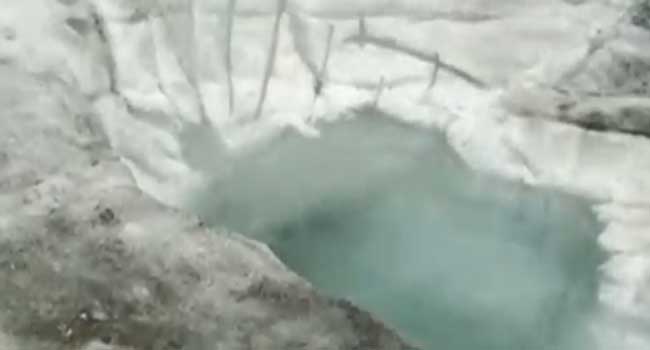 Swiss police confirmed on Wednesday the identity of a Swiss couple whose frozen remains were found on a shrinking glacier last week, and who had been missing for 75 years.
Marcellin and Francine Dumoulin, the parents of seven children, had gone to feed their cattle in a meadow in the Valais Canton on August 15, 1942.
Their bodies and belongings including food, a book, umbrella and backpack were found in a hole on Zanfleuron Glacier, on Glacier 3000, by an employee doing maintenance work last Thursday (July 13).
The disappearance of the 40-year-old shoemaker and his 37-year-old wife, a teacher, shocked the region.
All their sons are now dead. One of them spent a great part of his life desperately searching the glacier hoping to find the bodies of his parents.
The two daughters, Monique Gautschy-Dumoulin, 86, and Marceline Udry-Dumoulin, 79, are still alive.
For Monique, who was 11 when her parents went missing and still remembers details of that day, there is little relief in the discovery of their bodies, and the pain of their absence remains strong.
"25,300 and something days…I have counted and written on a bit of paper the number of days during which we missed our Mum and our Dad. These are things one can never ever forget. I'll be able to forget only when I close my eyes for the last time," Monique said.
Recalling the morning her parents left, she said, "The day they left, the weather was beautiful…You know, at that time, we didn't have anything like a radio, or anything like we have today giving the weather forecast for a number of days. When they started climbing up the glacier, the weather was beautiful, until a huge cloud came when they were in the middle of the glacier…They were swallowed by this cloud."
Glacier 3000 Director Bernhard Tschannen explained that the couple had fallen into a crevasse in the glacier, adding that Francine had gone out with her husband for the first time that day.
"So for the first time, the wife went with the husband, because before she was always pregnant, she had seven kids, and we believe that they were walking either in direction of Bern (Swiss capital) or coming back and that they fell into a crevasse," he said.
"Then, at that time, the glacier was much bigger than now, and, to imagine, in winter time, we have 5, 6 meters of fresh snow on the glacier. So, in the last years, the glacier shrunk a bit. This is now why 75 years later, two bodies came out on the glacier and it took so much time because they were very deep in the glacier inside."
The pair were among 280 people listed as missing in the Alps or rivers of the Valais canton since 1925, according to the police who expect to find more bodies as the glaciers melt.