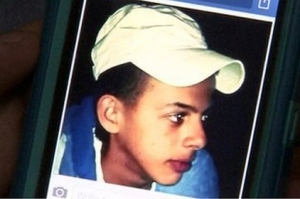 A number of Jewish suspects have been arrested over the murder of Palestinian teenager, Mohammad Abu Khdair, whose death sparked days of violent protests in Jerusalem and in Israeli Arab towns.
Khdair was abducted in East Jerusalem. His body was found on Wednesday with first post-mortem examination findings suggesting he was burnt alive.
Investigators believe Mohammed Abu Khudair was slain out of "nationalist motives", the source said, in comments that appeared to confirm Palestinian suspicions that far-right Jews were involved and that his death was a vengeance killing.
Abu Khudair's burnt body was discovered in a Jerusalem forest, a day after the burial of 3 Jewish teens who were abducted while hitchhiking in the occupied West Bank on June 12.
Their bodies were found on Monday, near the road where they had gone missing, and Israel blames Hamas militants for their kidnapping and killing.
The Islamist group has neither confirmed nor denied involvement.
Palestinians have clashed with Israeli police in Jerusalem over the past several days. The violence spread on Saturday to Arab towns and villages in central and northern Israel.