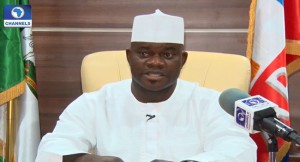 The Kogi State Governor, Yahaya Bello has said he will transform and make the state a tourism destination for foreign investors.
The governor who was represented by his Deputy Governor Simon Achuba stated this during the opening ceremony of the 2016 World Tourism Day Celebration in Lokoja the state capital, he noted that the state has a lot to gain if the tourist sites in the states are well developed.
Lokoja popularly called the Confluence City is where River Niger and Benue meet.
Most of the historical lyrics that would have been a tourist site for the state are now in a deplorable state, as they were not well taken care of, the first prison yard in the northern Nigeria that was used for prisoners up till 1945 has been taken over by weeds, the oldest treasury in the northern Nigeria is now a home for hens and dogs.
Joining the rest of the country to celebrate this year's World Tourism Day which took place at the Confluence Beach Hall in Lokoja with the theme 'Tourism for all Promoting Universal Accessibility' is the reason for the gathering of top government officials and some stakeholders in the tourism sector.
In his opening speech, the Commissioner for Information Culture and Tourism in the state, Mohammed Imam called on tourism policy makers in the industry, service providers and destination managers to evolve policies that would grant easy access to all tourism products and consumers irrespective of their physical challenges.
The Deputy Governor while reading the governor's speech noted that his administration has provided an actionable framework for tourism among other critical areas.