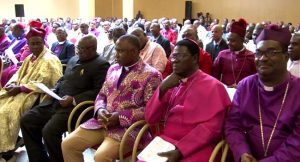 As Nigerians join their counterparts across the world to celebrate the birth of Jesus Christ, Christian leaders have stressed the need for them to uphold the virtues of the Christianity.
At the Cathedral of Saint Michael Anglican Communion in Kaduna State, the parishioners celebrated Christmas with praise and thanksgiving.
The Bishop of Kaduna Archdiocese, Most Reverend Timothy Yahaya, expressed optimism that Nigeria would overcome her numerous challenges if only the citizens start to do things right.
He appealed to the leaders to govern with love and patriotism, just as Jesus Christ showed love to mankind.
Bishop Yahaya, however, decried the evil practices of looting of public funds, bad governance and high rate of poverty in the country.
He asked political leaders to give the people hope instead of disappointment and to use the Christmas celebration to show love and care to the masses just as Jesus did.
Way Forward
The cleric commended the anti-corruption war by the President Muhammadu Buhari administration in which some stolen public funds from corrupt public officers were recovered.
However, he noted that the war should not be one-sided, but should be holistic starting from 1960 till date.
Bishop Yahaya further suggested that the way forward for Nigeria was for leaders and the citizens to shun corruption, nepotism and hatred and begin to see themselves as one people bounded by one destiny.
God Is With Us
Meanwhile in Benue State, Nigerians have been advised to look up to God for protection and preservation for the protection of mankind.
The Parish Priest of Saint Joseph Catholic Church in Nyiman, Father Moses Aonduveer Iorapuu, gave the advice during an interview with Channels Television on the significance of the birth of Jesus Christ.
The clergyman asked Nigerians and government to wait upon the Lord who he said is with them in all situation as "exemplified in the name Emmanuel, meaning God is with us".
In Nigeria's capital, the Primate of Anglican Communion, Most Reverend Nicholas Okoh, asked Nigerians to shun all forms of discrimination and embrace spirit of love, sacrifice and giving.
Reverend Okoh stated that the country can only experience meaningful development when its citizens live in unity,
Clergymen in other states also asked Christians across the country to be imbibe the lessons of the season.