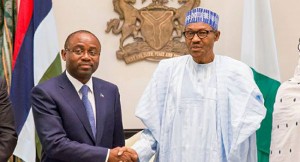 Nigeria's President, Muhammadu Buhari, has asked African Leaders to work harder to ensure social justice for all their citizens in order to achieve greater peace and political stability.
President Buhari made the demand on Monday in Abuja while in a meeting with the Foreign Minister of Equatorial Guinea, Mr Agapito Mba Mokuy.
He also maintained that as leaders of sovereign nations, African Heads of Government must be allowed to discharge their responsibility for peace and security within their countries, without external interference.
A statement by the spokesman for the President, Garba Shehu, quoted Buhari as saying that this was why Heads of State and Government of the African Union decided against sending peacekeeping troops to Burundi during the country's recent political crisis.
President Buhari, however, said that he expected the Government of Burundi to work towards greater peace, national unity and social justice for all Burundians to justify the decision of the African Union.
"Governments should be responsible for the security of their countries. Burundi must therefore ensure social justice for all of its people so as not to disappoint Africa in the eyes of the world," the President told the Minister who was in Abuja as a Special Envoy of President Obiang Nguema Mbasogo.
President Buhari assured him that Nigeria would continue to work with Equatorial Guinea and other nations to strengthen the African Union and its various organs for the good of the continent.
He said that Nigeria would also welcome more cooperation with Equatorial Guinea and other members of the Gulf of Guinea Commission to curb piracy and enhance security in the gulf.