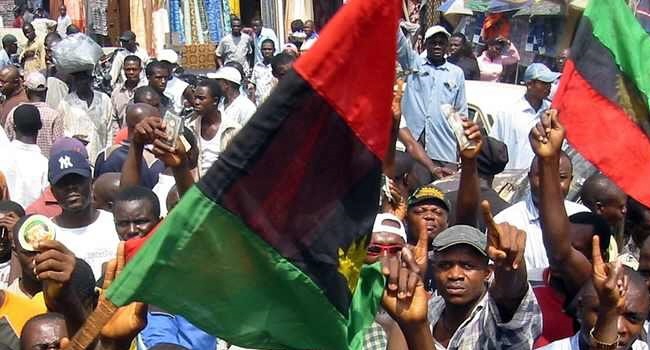 The Magistrate Court in Rivers State, southern Nigeria has ordered that the 44 pro Biafra supporters arrested in connection with a protest by the Indigenous People of Biafra, in Port Harcourt recently be remanded again in prison.
The members of the group were recently arrested in connection with a protest by the Indigenous People of Biafra in Port Harcourt, the Rivers State capital in south-south Nigeria.
The presiding Magistrate, Mr Andrew Jaja, said the court lacked jurisdiction over the matter since they were charged for treasonable felony.
He also noted that the court could not grant bail to the accused, stressing that the offence for which they were charged was beyond the magistrate court.
"The court does not have jurisdiction to entertain the case. Section 118 of the Criminal Procedure Act provides that persons charged with treason/capital offence cannot be granted bail by the Magistrate Court, but have the opportunity to be granted bail by the High Court.
Mr Jaja then ordered that the original case file be duplicated and copies sent to the Director of Public Prosecution (DPP) for further investigation and advice.
He also asked that the accused be remanded in prison custody till November 26.
While the prosecutor, Inspector Wilson Isaiah, expressed satisfaction with the decision of the court, one of the lawyers to the defendants, Linus Opara, also noted that the ruling for now sits well with his team.
Hundreds from the group had earlier stormed the streets of Port Harcourt carrying placards with various inscriptions and causing temporal gridlock on the Aba-Azikiwe road axis.
According to them, their protest was to show solidarity for the Biafran Radio Host, Kalu, who was arrested by security agencies and later released on administrative bail.