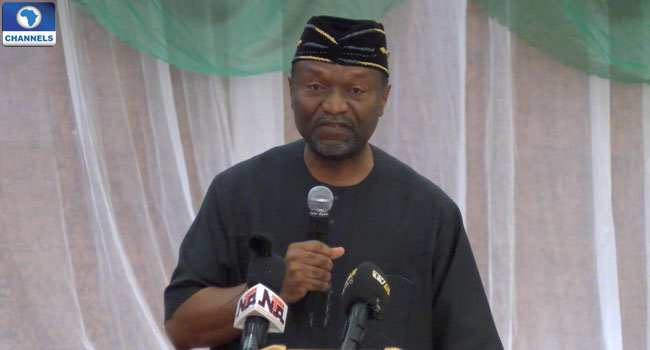 The Minister of Budget and National Planning, Senator Udo Udoma, has appealed to the African Development Bank(AfDB) to fast track the one billion dollars loan facility it promised the country as support for the 2016 budget.
The loan is expected to cover the 35 per cent shortfall in the 2016 budget.
Senator Udoma made this appeal on in Abuja during a meeting with an AfDB team over the weekend
The Minister said: "I want to thank you for the support. We value the relationship with AfDB and we appreciate the budget support. We want AfDB also to fastrack the loan facility".
Senator Udoma while giving an overview of the government's plan to reflate the economy and spend out of the recession, said that the government was trying to contain the militancy in the Niger Delta which had affected oil production in the country.
The government hopes to restore production to 2.2 million barrels per day at the end of the year.
"The government is committing money into infrastructure development, processing of export zones, and also providing loans through the Central Bank of Nigeria (CBN) at a single digit to support farming in Nigeria," he stated.
According to the Minister, the Economic Recovery Plan is designed to consolidate and harmonise all the sectoral plans in a single document and set out in broad detail an integrated roadmap for the growth and sustainability of the country's economy, and is also a part of the commitment the Federal Government made with Nigerians, whether there was a recession or not.
Also at the meeting was the Director General of the Budget Office, Mr Ben Akabueze and he said that what the government was doing differently concerning budget releases, was that it had shifted from the old practice of releasing monies quarterly but on specific request which are tied to projects.
Mr Akabueze said that so far over 750 billion had been released for capital projects.
He says hopes are high that revenue will improve in the second half of the year as the Federal Inland Revenue Service, (FIRS) and the Customs will do better, having overcome some of the challenges faced in the first half of the year.
The Acting Director for Governance and Reform, Mr Coulibaly, who spoke earlier said that the AfDB team came to seek further clarification on policy reforms, level of budget implementation, as it touches capital budget releases.
He also stated that they wanted the Minister to highlight if there was any new policy introduced in the 2017 budget and updates on the Social Protection Policy.