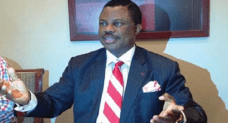 Civil servants in Anambra State converged on Jerome Udoji Secretariat, Awka, the state capital, to mark the 2015 African Public Service Day and got the government's assurance of a better welfare.
Addressing the workers on Wednesday, Governor Willie Obiano, commended them for their immeasurable contributions to the success of his administration.
The Governor described them as the 'engine of his government' who have helped to achieve the current status of the state's Internally Generated Revenue as well as facilitated government policies and programmes that brought fame and honour to the state.
Governor Obiano assured the civil servants of continued prompt and regular payment of salaries while expecting their dedication to duty and support to the government.
In the spirit of the occasion, the Head of Service, Mr Chidi Ezeoke, speaking in the Igbo dialect, admonished workers on attitude to work, as they were very indispensable to the state and to the nation.
Mr Ezeoke commended the Governor who had been assisting workers in the area of prompt payment of salaries and their general welfare.
The function featured presentation of merit certificates and awards to deserving public servants.
Governor Obiano made promises of additional transport buses to the fleet already in operation to ease the transport challenges of workers.
He, however, assured the workers of continued security of lives and property in the state.