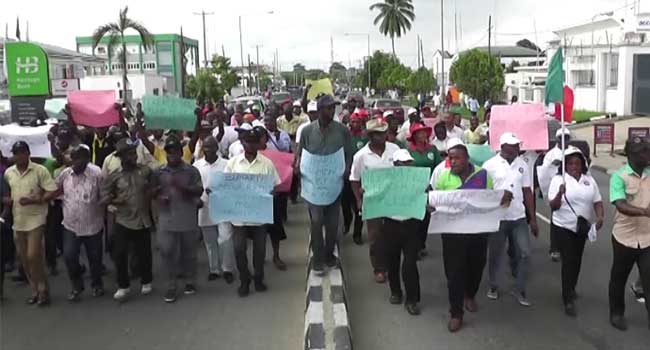 The national leadership of the Nigeria Union of Teachers (NUT) is begging for clemency for the sacked members of the union in Ogun State, Southwest Nigeria.
They are asking the state governor, Mr Ibikunle Amosun to temper justice with mercy.
At a press briefing in Abeokuta, the capital of the state, the national president of the union and other executive members condemned the actions of the dismissed union members.
They were sacked for their alleged misconduct during the 2016 world Teachers Day celebration in the state
The chairman of the union in the state, Mr Dare Ilekoya, was dismissed alongside 16 others while 19 others were suspended by the state government in line with the recommendations of a panel of inquiry that looked into their alleged misconduct and act of indiscipline.
"The national leadership of the NUT condemn this unfortunate development in its entirety, as it did not conform with the traditions and modus operandi of the celebration," the national president noted, while putting forward his pleas.
Begging for clemency, the national president said: "As a responsible organisation, we wish to apologise on behalf of our officers and members and ask for clemency from the governor of the state.
"We plead with the governor to grant them pardon, recall and reinstate them to their duty," he requested.