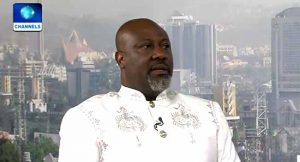 Chairman Senate Committee on FCT, Senator Dino Melaye, has applauded President Mohammadu Buhari's suspension of the Secretary to the Government of the Federation, Mr David Babachir Lawal, and the Director General of the National Intelligence Agency, Ayo Oke.
He made this known in an interview on Channels Television's breakfast show, Sunrise Daily.
"I'll start by saying, that was a very fantastic move by Mr President, I welcome the suspension, especially that of the SGF, and though very belated, it's a welcome development and I congratulate the President for taking such a bold step and we hope that decisions would also be taken in this manner on some other pending controversial issues.
Speaking on the "other pending issues", he explained that "there are a lot of individuals that have been investigated or not cleared by the Nigerian Senate and we expect that with unity of purpose as enshrined in the constitution between the legislature and the executive, the executive should be more proactive especially in decision making.
"A times, when you delay in taking some decisions, it creates some bad blood and it discourages the spirit of the fight against corruption because when you delay very important decisions, it begins to send a signal that we are being lackadaisical in the fight against corruption."
While also praising the President, he expressed dissatisfaction over the committee that was set up to investigate the issues surrounding the suspension.
"The President has done well by the suspension but I do not subscribe to the committee that was set up by Mr President," Melaye said.
According to him, this was because he expected the President to wait for the report of the Senate on the SGF especially when there had already been a communication between the Presidency and the Senate, requesting for a final report.
"I do not understand why a new committee would be set up to look into the matter when already the President is expecting a final report from the legislature and we are doing this within the confines of the constitution."
He however noted that the committee is currently working assiduously to complete their investigation regardless, and he gave the assurance that the revelations would be sterling.