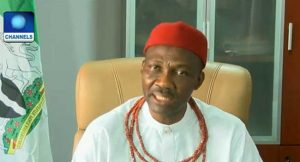 The National Chairman of the Peoples Democratic Party (PDP), Senator Ali Modu Sheriff, has accused his political rival, Senator Ahmed Makarfi of frustrating reconciliation efforts brokered by former President Goodluck Jonathan.
Briefing journalists in Abuja, Senator Sheriff's Deputy, Mr Cairo Ojougboh, said the PDP National Working Committee has been talking to the leaders of the party to fix a date for a convention.
According to Mr Ojougboh, the PDP would go on with the convention even as Senator Makarfi's group awaits judgement from the Supreme Court on the matter.
"The National Working Committee has adopted the position of the reconciliation committee as a working document and a working paper, and it's not exhaustive.
"Any organ of the party or any person in the party that has any position to submit to the National Working Committee will also be studied.
"If Makarfi and his group feel that they don't want political settlement and that they want to wait for the Supreme Court, it is their choice.
"But the party cannot remain stagnant waiting for them, so the party must continue.
"When they get to the Supreme Court and they come back, then we will know how to cross that bridge when we get there.
"All organs and 90% of the populace of the PDP including stakeholders have queued into the issue of reconciliation and convention, and the convention must hold," he said.
However, spokesman for the Makarfi-led Caretaker Committee, Mr Dayo Adeyeye, insisted that Senator Sheriff has been the one frustrating the peace efforts.
"As far as we are concerned, that agreement states clearly that all parties should resign then our lawyers will meet to draw up an agreement that we can present to the Supreme Court as a voluntary judgement that we have fully agreed to before the court.
"This can provide both legal and political solution to the crisis, but Sheriff has rejected that," Mr Adeyeye said.
Former President Jonathan and other leaders of the PDP have urged the warring factions to settle their dispute out of court.