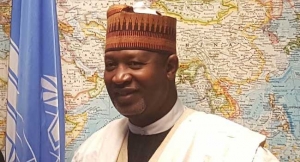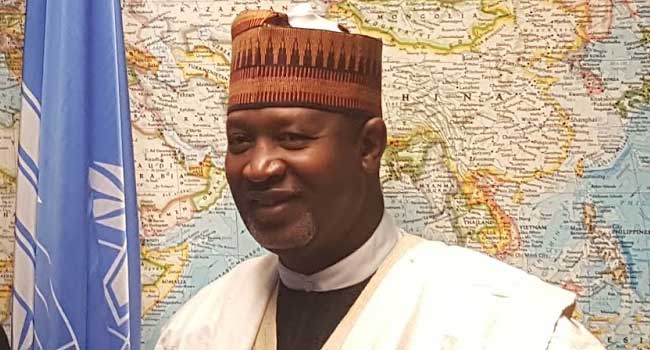 The Minister of State for Aviation, Hadi Sirika, has directed an immediate investigation into the use of an unauthorised equipment by Aero Contractors Airlines at the conclusion of a chartered flight to Bauchi on Saturday.
Reports received by the Minister on Sunday, revealed that the airline used a ladder to disembark passengers from a Boeing 737 aircraft at the Bauchi Airport on Saturday, December 19.
A statement signed by the Deputy Director, Press and Public Affairs of the Ministry of Aviation, Mr James Odaudu, said that the act was inconsistent with Nigeria Civil Aviation Regulations (NCARs), International Civil Aviation Organization (ICAO) and Standards and Recommended Practices (SARPs).
The statement added that the investigation would determine the immediate and remote causes of the incident, and will develop and implement measures that would prevent a recurrence of the unsafe and unacceptable procedure that exposed passengers to high risk of injury.
The Minister assured the traveling public that the Ministry of Transport, in collaboration with the Nigerian Civil Aviation Authority (NCAA) would ensure strict adherence to the Nigerian Civil Aviation Regulations as well as ICAO standards and recommended practices by all operators.
Aero Contractors Airline, in a statement explained that a special charter flight operated by Aero to Bauchi had problems with unserviceable equipment by the airport management in dis-embarking about 34 passengers from Abuja.
"Consequently, against the airline's wish and operation safety guideline, the passengers used a ladder to disembark.
"However, at the time of boarding, the air stairs became functional and the passengers boarded successfully",  the statement said.
The airline said it took adequate safety measures for the operation, including the airport's ground staff crew to handle the air stairs equipment in Bauchi, but unfortunately, it became unserviceable at the point of disembarkation.
"Although, the airline crew tried to calm down the passengers to wait while the equipment was being fixed, the passengers insisted on their own volition to disembark against all safety protocol of the airline.
"Aero Contractors wishes to state that it is reviewing its safety measures with all charter operations to all airports to prevent such re-occurrence. Aero will continue to take adequate measures to ensure that its operations remain safe and secure", the airline said.