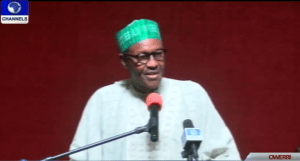 The President Elect of the Federal Republic of Nigeria, Muhammadu buhari, has commended the President and people of Niger Republic for being good neighbours to Nigeria.
Speaking in Abuja shortly after hosting the President of Niger, Mr Mahamadou Issoufou, to a meeting held behind closed doors.
Buhari said that the continued existence of Nigeria as a united nation is for the good of other African countries.
He said that citizens of Nigeria, Niger and some other countries would have been one people, were it not for the scramble and partition of Africa by the Europeans.
President Mahahadou Issoufou had earlier met with President Jonathan in the Presidential Villa, where he commended President Jonathan's statesmanship saying President Jonathan has always conducted himself in a very humble manner, adding that the ECOWAS leaders will forever remember him for that.