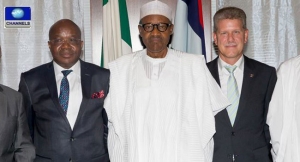 Nigeria's President, Muhammadu Buhari, on Friday directed some ministries to urgently prepare and present for approval and implementation, a plan of action for the speedy revitalisation and expansion of the nation's vocational training centres.
The President issued the directive to the Federal Ministries of Works and Lands, Housing and Urban Development.
A statement by a spokesman for the President, Mr Garba Shehu, said that Mr Buhari gave the directive after a meeting with the Board of Directors of a leading construction company in Nigeria.
At the meeting, President Buhari was told that the shortage of competent construction workers and artisans had forced construction companies to bring in skilled workers from abroad.
Producers Of Skilled Workers
Observing that the practice was very detrimental to his administration's commitment to boosting employment opportunities for young Nigerians, President Buhari pledged that his administration would move quickly to address the shortage of skilled construction workers.
The President demanded a report on the current status of existing vocational training centres established by the Federal Government.
He said that his administration would take all necessary action to rapidly reposition them as efficient producers of skilled workers for Nigeria's building and construction industry.
President Buhari assured members of the Board of Julius Berger Nigeria Plc that his administration would act swiftly to ensure that the Building Craft Training School and Skill Improvement Centre in Lagos were fully revamped, staffed and equipped to produce more skilled electricians, brick and block layers, carpenters, painters, welders, fabricators, plumbers and other artisans.
Reaffirming his administration's commitment to the proper education and training of Nigerian youth for the current demands of the labour market, the President said that the Federal Government would act expeditiously to remove all impediments to the fulfilment of its promise of more jobs for unemployed Nigerians.
He also assured the Julius Berger Directors led by Mr Mutiu Sunmonu that in spite of the present funding challenges, the Federal Government would continue to do everything possible to settle genuine outstanding payments due to contractors.