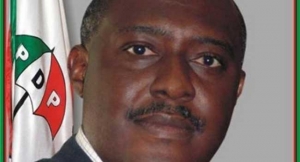 The National Publicity Secretary of the Peoples Democratic Party (PDP), Mr Olisa Metuh has filed an abuse of human rights suit against the EFCC.
Counsel to Metuh, Mr Ifedayo Fadipe told the Abuja high court that his client was being held illegally by the commission beyond the time stipulated by law.
He asked the court to compel the commission to either release his client on administrative bail or charge him to court as required by law.
In the meantime, the EFCC has insisted it has a valid court order to detain Mr Olisa Metuh.
Counsel to the EFCC , Mr. Rotimi Jacobs said that contrary to the insinuation that Metuh is being held unlawfully, the commission had obtained an order of a court in line with the administration of Criminal Justice Act, approving the detention of the politician pending the completion of investigation into the allegations against him.
Meanwhile, the Economic and Financial Crimes Commission (EFCC), says it has filed a seven count charge of criminal breach of trust, corruption and money laundering against the PDP National Publicity Secretary, Mr Olisa Metuh.
Mr Metuh, according to the charges, transferred the sum of $1 million through his agent, Nneka Nicole Ararume, to one Sie Iyenome of Capital Field Investment committing an offense contrary to Section One of the Money Laundering Act.
He is also accused of receiving the sum of N400 million from the office of the former National Security Adviser, Col. Sambo Dasuki, without a contract contrary to the Money Laundering Act.
Mr Metuh, is also accused of converting the said money to funds for political activities of the People's Democratic Party.