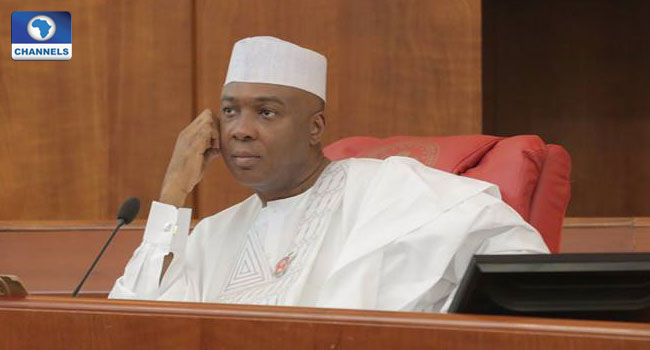 There was mild drama at the Code of Conduct Tribunal during the trial of Senate President, Dr. Bukola Saraki on Thursday as the Chairman of the CCT, Justice Danladi Umar ordered the arrest of the defence counsel for alleged contempt of court.
At the continuation of hearing, defense lawyer, Mr Raphael Oluyede wanted the chairman to attend to his application of alleged bias by Justice Umar, which makes him not qualified to continue with the case.
He also raised an allegation of a corruption case against the judge pending with the EFCC.

But the prosecution lawyer, Mr Rotimi Jacobs, told the tribunal that Mr Oluyede should not be allowed to file the suit because he has not been representing the accused on the motion.
Chairman of the Tribunal ruled Oluyede out of order because he was not a party in the suit and a member of the defence team.
According to the Chairman, the counsel was only announced as part of the team on Wednesday and cannot file the motion because he was not part of the team and is also not ripe for hearing because the application is based on falsehood.
The Chairman added that he filed the application without the consent of the defendant or his lead counsel as reported by the prosecution counsel, Mr Rotimi Jacobs.
Counsel to Dr. Bukola Saraki, Mr Oluyede got in an argument with the Chairman of the tribunal and was arrested by the Police on the orders of the Chairman of the tribunal.
But the prosecuting counsel pleaded with the Chairman not to effect the arrest which allowed the trial to continue.
Order was later restored and the proceedings continued. One of the defence counsels, Mr Paul Usoro continued cross examination of the prosecution's witness, Michael Wekpas.
Mr Wekpas claimed the strength of the investigation team is based on the statement of account which allegedly shows clear narration of transactions in respect of sums transferred abroad.
While continuing his narration, another witness, Usman Imam also admitted like the first witness that he was not a member of the team that interviewed the defendant but was briefed by the team leader Mr Musa Sunday.
He added that his own team made some discoveries before reports were harmonized.
Meanwhile, the prosecution has filed an amendment charge against the Senate President while the lead counsel to the accused is requesting that hearing be adjourned for one week to allow them study the charges.
Justice Umar granted the request and adjourned the case till next Wednesday April 27.