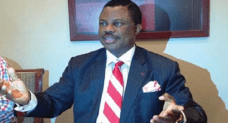 The Anambra State government has signed a Memorandum of Understanding on housing development with two investment companies, Rockland Development Institute and Lake Petroleum Limited.
Signing the agreement on Friday at the Governor's Lodge, Amawbia, Governor Willie Obiano said that the move was to further make housing affordable to the people of the state.
He explained that the numerous housing projects which his administration is undertaking was to reverse the uncomplimentary trend where Anambra citizens who work or do businesses in the state live in neighboring states due to lack of affordable accommodation.
The Governor expressed hope that the projects would provide a desirable housing development model.
The Managing Director of Anambra State Investment Agency, Mr Joe Billy Ekwunife, remarked that the outstanding benefit of the project was the reclamation of lands threatened by erosion.
The Executive Director of Lake Petroleum Limited, Mr Valentine Mbaji, commended the Governor's effort in the area of security which he said has continued to attract investors.
He gave the assurance that the project would provide the much needed urban renewal for Onitsha.
The Managing Director of Rockland Development Institute, Mr Obi Eneh, on his part, assured Governor Obiano of his company's full commitment to delivering a world class housing project to the state.
The Rockland MoU total investment was put at $10.8 million for the development of 450 plots of land in a new town layout, Baron Estate Court in Awka, the state capital.
The Lake Petrol deal was put at $7.2 million for the development of a state-of-the-art estate on 60 standard plots to be called Divine Mercy Estate located in Onitsha, the Abia State commercial capital.