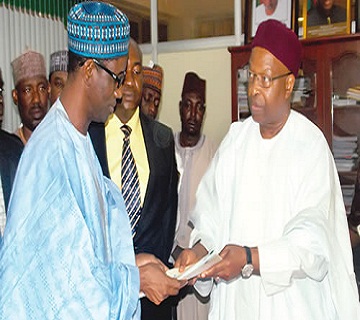 Ahead of the bye-elections in Adamawa State in October, some governorship aspirants contesting on the platform of the Peoples Democratic Party (PDP), including a former opposition party presidential candidate, Malam Nuhu Ribadu, have returned their nomination forms to the party's headquarters in Abuja.
Other aspirants who returned their forms include the Acting Governor of the state, Amadu Fintiri, the Executive Secretary of National Teachers Institute/Universal Basic Education, Muhammad Modibo, and son of the former National Leader of the People's Democratic Party, Awwal Tukur.
According to the report, the PDP  has scheduled September 6 to hold the governorship  primaries ahead of the Adamawa State bye-election that has been slated for October 11 this year.
Fourteen aspirants of the party are contesting in the primary election that is expected to produce a candidate who may replace Murtala Nyako who was impeached from office in July.
However, considering the influence that each of the aspirants has in the state, National Organising Secretary for the Party, Abubakar Mustapha, advised aspirants to be peaceful and abide by party laws.
The advice, however, may not hold water, as aspirants have mixed opinions on issues involving zoning, consensus candidate and new entrants to the party.
Over 900 state delegates are expected to participate during the party's primaries in September.
Although party leadership has promised a free, fair and credible primaries in the state, the results, actions and approach of politicians on September 6, would mean a lot for the party ahead of the 2015 general elections.