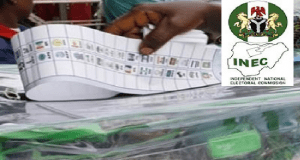 The leadership of the Alliance for Democracy (AD) has expressed its support and confidence in the chairman of the Independent National Electoral Commission (INEC), Professor Attahiru Jega, to conduct free, fair and credible general elections.
The National Vice Chairman of the political party, Mr Muhammed Yakubu, gave the party's vote of confidence in Abuja while commenting on the recent postponement of the general elections.
Recently the INEC has come under criticism for not being adequately prepared for the 2015 elections.
The Independent National Electoral Commission in Nigeria (INEC) on the February 7 announced a shift in the general elections dates to March 28 and April 11.
Professor Jega said that the Presidential Election would hold on March 28 while the Governorship election would hold on April 11.
The Chairman of the commission said that the decision was not influenced by any group or individuals, adding that "We have done wide reaching consultations to enable us have as much input as necessary before taking an informed decision.
The major opposition party in Nigeria, the All Progressives Congress (APC,) has come down hard on the electoral umpire on the decision to postpone the polls.
The APC Chairman, John Oyegun, in a press statement, also stated that the decision was a major setback for Nigerian democracy, saying "This is clearly a major setback for Nigerian democracy, and our party is meeting in emergency session to study its implications and will inform Nigerians of its decisions in the next few days.