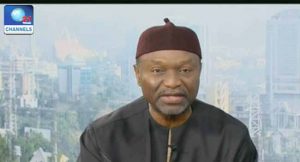 The Minister of Budget and Planning, Mr Udo Udoma, on Friday stated steps being taken by the federal government to restabilise the economy.
Mr. Udoma, who was a guest on Channels Television's breakfast programme, Sunrise Daily, noted that "foreign currency shortage, is responsible for where we are today".
He further explained that the country is in need of money, which is needed to raise more money.
He then opined that "what we need to recharge the economy, is foreign currency".
The Minister said that the ministry had a fiscal stimulus plan which they have been developing over the last month.
He stated other plans by the ministry to stabilise the economy to include "asset sales, concessioning, advance payment from licensing rounds", all aimed at raising between 10-15 billion dollars.
Mr Udoma also used the medium to solicit the understanding of Nigerians, saying everything is being done to ease their pains.
"I want Nigerians to be patient, we are on top of the Job, we know what to do but it takes time".
Change Begins At The Individual Level
As economic and financial experts continue to offer suggestions to help re-inflate the Nigerian economy, the government in turn, has urged citizens to embrace change on an individual level, through the 'Change Begins With Me' initiative.
Further more, at a time like this, the onus is now upon the private sector and business owners to begin to think creatively of ways by which the economy can be boosted.
With the recession hitting almost every sector, some have also said that the only way to address this challenge is through the adoption of policies that will enhance local production and reduce pressure on the nation's reserves.