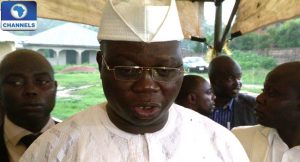 The Ooni of Ife, His Imperial Majesty Ooni Adeyeye Ogunwusi Ojaja II, has refuted a newspaper report in which he was quoted to have ordered Mr Gani Adams to vacate his position as the National Coordinator of the Oodua People's Congress (OPC).
Ooni Ogunwusi dismissed the reports in a statement released by his spokesman, Mr Moses Olafare, who described Gani Adams as an unapologetic loyalist of the Ooni.
He said that the veteran Yoruba Self-determined Adams had invested so much of resources into the socio-cultural emancipation of Oodua race and could only be treated with a deserved reciprocation of love and respect, as a patriotic Ooduan who had never hesitated to demonstrate love and respect to the sacred throne of Oduduwa.
"Baba Ooni never at anytime claimed to have ordered Otunba Gani Adams to resign as the Leader of the OPC. He sees him as an unapologetic loyalist and son who has always treated him as his father with love and absolute respect.
"We have always welcomed him as a member of the inner chamber of the Ooni's Palace," Olafare said.
On the request by a factional group of OPC members on a visit to the Ooni at Ile-Ife recently begging him to intervene in the OPC matters, the Yoruba foremost king admonished all the factions within the Pan-Yoruba group to close ranks and work together as one big family in the interest of unity and peace in Yorubaland.
"Baba said to them to close ranks in the interest of peace and unity of Yorubaland. He assured them of his fatherly support at all time as long as the unity of Yorubaland is not in jeopardy. Kabiyesi, who is slated to tour Europe in May on the invitation of sons and daughters of Oodua, is committed to the emancipation of the race.
"His unwavering and unflinching determination to unite all forces in Yoruba Kingdom both home and in the diaspora is the driving force behind all these," Olafare added,
The statement also revealed the preparations were on in the palace ahead of a visit of members of the OPC and Oodua Progressive Union as well as the members of Olokun Festival Foundation to Ile-Ife.
The visit is part of the annual Oodua Festival slated for January 25 and 26 in Ile-Ife.