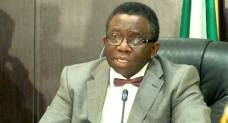 A new national health policy has been approved by the National Council On Health and is expected to be sent to Federal Executive Council for approval.
According to the Minister of Health, Prof. Isaac Adewole, the policy captures the essentials of ensuring the reduction of maternal and child mortality, wider immunization coverage and better control and prevention of public health emergencies.
Briefing journalists in Lagos, Prof. Adewole explained that a new strategy to address the surgical need of indigent Nigerians is now being implemented under the rapid result initiative.
"There are so many poor Nigerians all over the place with surgical ailments and nobody is looking after them and we therefore conceived the idea of the rapid result initiative.
"We selected 10,000 of them to start with this year. So, 10,000 free surgeries for poor Nigerians. The only qualification is that you must be poor," he said.
He further explained that 46 federal tertiary health institutions have been identified to handle the scheme by screening the applicants and performing the surgeries.