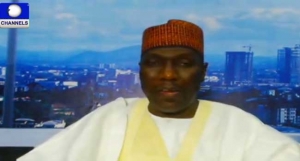 The Chairman of the Northern Reawakening Forum, Modibo Kumalia, has explained that their call was not for the convening of another National Conference.
Speaking on Channels Television's breakfast programme, Sunrise Daily, he said that the conference they are calling for is different from that which was held in 2014.
He explained that what they want is a conference where stakeholders would "come and share experiences" and provide advice on how to rebuild the northeast region of Nigeria
He stated that media reports that they were calling for another national conference were erroneous as their statements were misunderstood. He also did not rule out the possibility of mischief in reporting them "out of context".
The former Minority Leader of the House of Representatives, further decried the sensational headlines in the newspapers which he said did not represent the views they clearly communicated to the media.
"I have been a member of the last National Conference, I know the work that has gone into that conference and we made no issue about throwing away that conference or not throwing away that conference. It was not the subject of our press conference.
"The press conference that we held was to read the communique of a 2-day engagement. We held a summit on Saturday, we held a retreat on Sunday under the auspices of the Northern Reawakening Forum, where a number of stakeholders were invited and various issues were discussed.
"We had in attendance, governors of Northern Nigeria, development partners – World Bank, DFID, African Development Bank, United Nations Humanitarian Office, representatives of CBN, National Planning Commission, NEMA and a host of others.
"We even had philanthropic organisations such as the Dangote Foundation, TY Danjuma Foundation, and there was a paper that was delivered by the Governor of Borno, which talked about building a safe, secure and economically inclusive northern Nigeria.
"The communique we read was a 6-page document that talked about good governance and accountability, infrastructure and IT, youth development and education, security and human suffering as well as healthcare.
"The only thing that these two papers were interested in was the issue of the National Conference which they even took out of context.
"So, I will say that the premise upon which people had reacted to this issue was wrong. They were misled, I don't know the motive (but) the Northern Reawakening Forum did not call for a fresh national conference or a political reform conference."