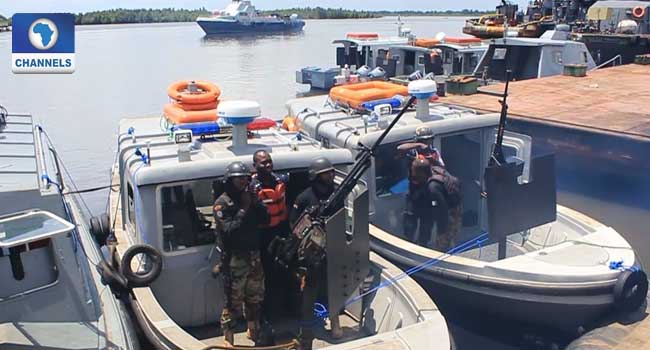 The Chief of Naval Staff, Rear Admiral Ibok-Ete Ekwe Ibas, on Wednesday reiterated the need for increase and effective surveillance on the Nigerian Waterways.
As part of the efforts to improve security the naval chief visited naval formations in Delta State at the Naval Engineering College Oghara.
He said the recent activities by the militants in the region called for intensified security.
Rear Admiral Ibas explained that his tour had helped in the identification of challenges faced by men and officers in the region in the fight against oil theft, vandalisation and militancy.
'Remain Patriotic'
He advised his men and officers to have a change of attitude in their operations to enable him actualise his new plan of addressing the menace confronting the nation's waterways.
"You are all aware of the recent insecurity challenges in the country especially in the Niger Delta region and its impact on the economy. I have taken my officers up on the need to remain patriotic and serious with their jobs.
"I have visited some IOCs asking them the challenges they are having all on a bid to ensure that they mop up security and provide en enabling environment for the improvement of oil production," he told reporters after the tour.
The naval chief also took time to thank officers and men of the Naval Command for their resilience and steadfastness in keeping Nigeria's waterways void of crime.