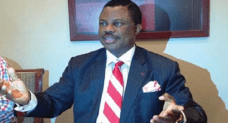 The Anambra State Governor has promised to tackle health illiteracy among women in the rural areas of the state.
According to Governor Willie Obiano, the development is to ensure proper infant and maternal healthcare in Anambra State, south-east Nigeria.
He made the declaration on Wednesday during the first round of the 2015 Maternal, Newborn and Child Health Week (MNCHW), at Ifite-Ogwari in Ayamelum Local Government Area (LGA) of the state.
The MNCHW is a programme which gives mothers equitable access to a package of high impact survival and developmental drugs in a very cost effective manner.
It also gives children access to receive routine immunisation against diseases as well as malarial drugs and nets.
Governor Obiano captured the whole problem and tagged it to catching the girl child young and giving them the best of education in order to conquer maternal and infant mortality.
According to the Chairman of Ayamelum LGA, Paul Obiora, illiteracy and poverty contributes in major terms to the death of mothers and infants in the agrarian community.
He decried that about 95% of the women are not educated, adding that the issues of health were not been taken seriously on grounds that they are mostly farmers.
Responding to Obiora's submission, Anambra State Commissioner for Health, Dr Joe Akabuike, used the opportunity to highlight the essence of antenatal care.
Similarly, the Governor's wife, Mrs Ebele Obiano, appealed to the women to have their children immunised as they are the future leaders of the world.
In another development, a representative of the World Health Organisation, Dr Willy Onuorah, commended Anambra State Government for the giant strides it had taken in healthcare services which includes the area of maternal and child health, as well as upgrading the selected health care facilities in the state.
He also urged mothers to take advantage of the free immunization and ensure that their children are taken to centres where the vaccines would be administered.
The event came to conclusion with the Governor and his wife administering the polio vaccines to infants, as well as handing treated mosquito nets to mothers.