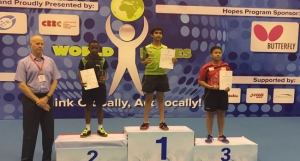 Nigeria's 12 years old table tennis talent, Abayomi Animasahun, once again, put up a good display to finish second at the International Table Tennis Federation (ITTF) Hopes Challenge in Shanghai, China.
Animasahun defied all odds to win silver in the boys' singles of the 2015 ITTF competition.
Animasahun has made good improvement on his performance at his first international competition at the Egypt Junior Open in June where he won the U-12 boys' singles.
He also finished among the top eight at the China Junior Open last week. Some ITTF officials have described the Nigerian player as Africa's prospect in the sport.
From the group stage, Animasahun stunned some of the highly-rated players from Netherlands and Thailand to settle for second place after losing to United States' Nikhil Kumar in one of the three matches in the preliminary round. But for placing second, he joined the American boy to qualify for the semi-final stage.
In the quarterfinal match, he continued his fine-form to beat New Zealand's Nathan Xu 8-11, 11-9, 11-9, 11-5) to set up a semi-final tie against Belgium's Adrian Rassefosse which he won. He finally set up a rematch against the American boy who had earlier defeated him in the group stage.
However, he lost again in the final match as the American won the match at 11-8, 11-6, 11-6 to be crowned the boys' champion.
The performance of the young Nigerian has received praise from ITTF Education and Training Coordinator, Dejan Papic.
"Animasahun attracted a lot of attention, first he managed to outlast Nathan Xu of New Zealandin long top spin exchanges. The surprise victory made him hot, he moved better in the semi-final against Belgium's Adrian Rassefosse and played with increased confidence. But in final, he ran out of steam and American Kumar played better in each game. It seemed the fact that Kumar being a left hander was one of the deciding factors," Papic said.
In the girls' singles, Egypt's Sara Elhakem emerged winner after beating Germany's Sophie Kee in the final. Nigeria's representative Muibat Bello finished eighth at the competition that featured sixteen players.