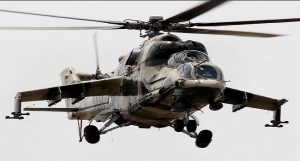 The Chief of Air Staff, Air Marshal Sadique Abubakar, says over 2000 officers have so far been trained from a range of specialist courses at different military institutions both locally and abroad.
He also said that new air crafts and equipment have been acquired to boost the fighting capacity of troops in line with current security challenges in the north east and other parts of the country.

Air Marshal Abubakar disclosed this at the 2016 Capacity Training Seminar for officers held at the Nigerian Air Force Base in Kaduna State.
He announced that the Nigerian Air Force has procured the Super Mushshak Trainer Aircraft that will provide robust and enduring foundation for combat pilots in order to enhance their productivity.
The training with the theme, "Optimizing Human Capacity Development to Enhance Professionalism", is part of the ongoing effort by the Nigerian military to win the war against Boko Haram terrorists in the north east.
It is also geared towards improving the manpower development for officers and men of the service in their future military assignments.
Addressing the officers at the event, Air Marshal Abubakar, stressed the need for continuous training and re-training of Airforce personnel for them to be able to tackle the current security challenges facing the nation.
He disclosed that the Nigerian Air Force had in the last one year embarked on intensive individual and group training of personnel within and outside the country, adding that so far, a total of 2,275 officers have been trained locally and another 535 trained abroad in different specialties.
The Air Officer Commanding Training Command, Kaduna, Air Vice Marshal Wakili Ahmed, highlights the aim of the seminar which is to ensure a well-trained and motivated personnel for the service.
Representative of Governor of Kaduna State commended the effort of the Nigerian Military in addressing some of the security challenges in the state.
Over 100 officers, including Commanding officers, were drawn from the various Air Force divisions and units to attend the seminar, which will last for two days.
The training will focus on capacity building development, intelligence and analysis, operational capacity building and force sustainment.