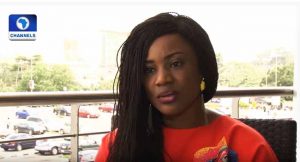 As the Nigerian film Industry continues to evolve, Kiki Omeili has joined a couple of other young vibrant filmmakers, to regalvanize Nollywood, which many now refer to as the "new Nollywood".
From 'Married But Living Single' to 'Lekki Wives', the doctor turned actress, has continued to grace the movie screens with her talent and unique acting skills.
Sharing her experience in the film industry, she considers herself lucky to have "joined Nollywood at a time when the industry was changing and there were so many new filmmakers interested in raising the bar and doing projects that would be able to compete internationally.
"Those filmmakers are interested in casting competent people who are also interested in adequately interpreting the roles they are given".
Originally named Nkiruka Omeili, she explained that transitioning from being a doctor to an actress came easy because she had the talent and would always get called back after attending auditions.
"It was quite easy to get spotted because I had what it took," she told Channels Television.
Kiki, who started performing in stage plays during her primary and secondary school years, however feels that the idea of the 'New Nollywood', is not really about a difference in the kind of movies but rather the new faces that have graced the industry.
"I'm very sure that we would be there for a while, and after a while, new faces are going to come up again." the actress said.