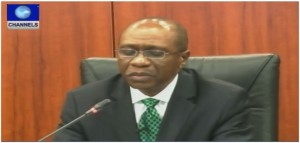 The New Central Bank of Nigeria governor, Mr Godwin Emefiele, has pledged his commitment to building a resilient financial system.
Addressing a news conference in Abuja on Thursday, Mr Emefiele also promised to ensure that the cashless policy of the bank spreads to other parts of the country before the end of July.
The new apex bank chief also stopped all charges on deposits made by customers.
In his first speech as the governor of the bank, he said that the bank would remain apolitical for the next five years and would also strive to maintain a healthy external reserve.
Top officials of the bank and heads of agencies and parastatals from the financial sector were at the maiden news conference by the governor of the apex bank.
Reeling out his agenda, Mr Emefiele said that the bank would remain focused, with a continuous commitment to ensuring macro-economic stability.
The cashless policy was introduced the cashless policy that was introduced by the former governor of the Central Bank of Nigeria (CBN), Mr Lamido Sanusi, and Mr Emefiele stressed that by July the policy would be spread across the country while charges on cash withdrawals will be reviewed.
He did not state whether it will be a downward or upward review.
For the days ahead, the apex bank says Nigerians should expect a reduction in key interest rates, risk based supervision and investment in key sectors like petroleum and agriculture sectors to boost job creation and reduce poverty.
The CBN governor took over from Dr Sarah Alade, who had been in an acting capacity for three months, two days ago, promising to reel out his agenda on Thursday.
The new governor of the apex bank has announced ambitious plans for the economy. It is hoped that these plans would be matched with actions in the days ahead.