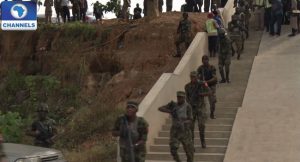 The Nigerian Air Force says it is fully prepared to respond to possible terror attacks across Nigeria's airports, just as it assured air passengers of their safety at all times.
The Chief of Air Staff, Air Marshal Sadique Abubakar, expressed the readiness of the force while addressing naval officials after a simulation exercise at the Nnamdi Azikiwe International Airport in Abuja, Nigeria's capital.
The simulation appeared like a real life situation, showcasing the Nigerian Air Force's combat readiness to counter terrorism at the airport.
It began with troops taking vantage position at the airport while others are deployed into the terminal building of the airport to arrest the terrorists.
Under the command of the regiment commander, the troops stormed the airport to arrest some suspected terrorists.
With the arrest of the terrorists which brought the mission to an end, the Chief of Air Staff gave his observation on the exercise.
"I am very happy that we have been able to test the plans we have for this airport and whatever gaps there are, we will be able to quickly go back and debrief and see where there are areas of difficulties," he said.
The Air Chief reaffirmed that there was no threat of terrorist attack on any airport in Nigeria.
"We are not anticipating anything. Like I said, this is just an exercise. It is very important that you evaluate your plan from time to time. If not you might have some gaps in what you have put together. If you have to wait till there is anticipation, then it might just be too late," Air Marshal Abubakar stressed.
He further explained that the simulation exercise was aimed at testing the combat readiness of the troops to counter terrorism and would be replicated across the country.
Air Marshal Abubakar noted that the air staff were fully equipped to counter terrorists attacks on any airport within Nigeria.
He appealed to law abiding Nigerians to go about their lawful activities, saying that the Air Force remained committed to supporting other security agencies in reducing the activities of insurgents and militants in Nigeria.