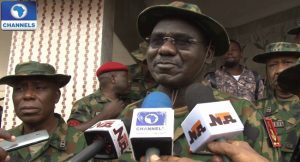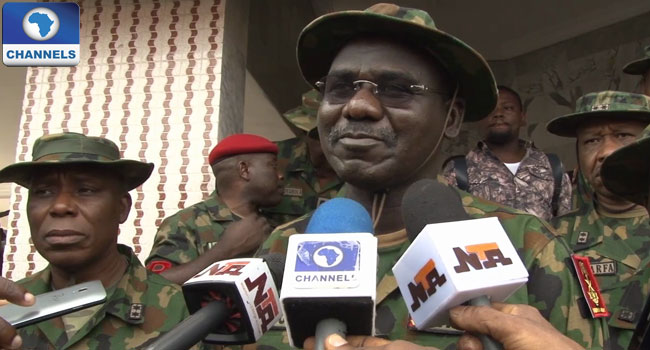 The Nigerian Army has recruited over 5,000 soldiers into the force, in the bid to shore up its manpower and confront the current security challenges of the country.
The Chief of Army Staff, Lt General Tukur Buratai, has insisted that the security challenges would soon be a thing of the past.
According to him the military is working hard to finally defeat the Boko Haram terrorists in the north east and other criminal elements threatening the peace and security of the nation.
He gave the assurance during the passing out parade of the 75 regular recruits intake at the Nigerian Army depot, Zaria in Kaduna state.
Buratai represented by the General Officer Commanding 82 Division, Major General Adamu Abubakar, said the Nigerian army would continue to increase its mental and physical capacity, in order to effectively fight insecurity in the country.
These young soldiers have undergone intense training at the depot and are graduating for onward deployment to the field.
Addressing the soldiers, the Army chief told them that the Boko Haram threat in the North-Eastern part of the country demands that the Armed Forces maintained a well-trained and disciplined force.
While congratulating the soldiers for the successful completion of their initial training at the institution, General Buratai reminded them that a lot is expected from them in terms of loyalty, discipline and selfless service.
Buratai also assured the new recruits of being exposed to further training in counter-terrorism and counter-insurgency operation.
Since its establishment in 1924, the Nigerian army depot, Zaria has remained pivotal in the production of soldiers for nation's military.
"This function is relevant, considering the vast security challenges confronting our great nation.
"It is therefore expedient to observe how Depot NA has continued to evolve its training activities in line with my vision of producing competent and professionally responsive force for Nigerian Army.
"The over 5,000 of you graduating today are expected to improve on the manpower of the Nigerian army and its combat efficiency in view of the security challenges being faced across the country," he stated.
This is coming shortly after the President, Muhammadu Buhari, assured Nigerians that the era of Boko Haram militancy has come to an end, with the soldiers, crushing the terrorists' "last stronghold" in Sambisa forest.