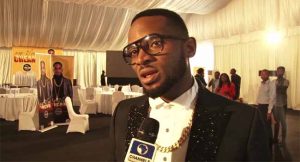 Internationally recognised award winner and entertainer, Dapo Oyebanjo, globally known as Dbanj (Koko-master), has announced the roll out of his latest talent hunt project, 'Cream', to reward young creative minds in the Nigerian entertainment industry.
The singer, songwriter and self-proclaimed 'koko master' grew through the ranks within the Nigerian music sphere, beginning with his debut single 'tongolo' in 2005.
Having risen to the pinnacle of the Nigerian music industry on the back of five albums, the former MO'hits man announced that his new mission was to nurture budding talents in Nigeria.
According to him, talents are everywhere and in order to reach out to them, he created the platform that would bring young talents together from far and wide.
Working with him to achieve this is American talent manager, Tonya Merritt, who had worked with American talents, including 2 Chainz, Idriss Elba and many others.
Merritt believes Nigeria boasts of talented individuals who are capable of ruling the music world.
In June 2011, D'banj and his then music partner, Don Jazzy signed to American music imprint 'Good Music' owned by multiple grammy award winner Kanye West.
A deal which was believed to eventually lead to the breakup of MO'hits, their own indigenous record label.
Today, artists like Tiwa Savage, David O and Wizkid also brag about gaining the attention of international audience.
D'banj's latest single 'If No Be God', gives a different vibe from the typical dance-oriented D'banj's songs.