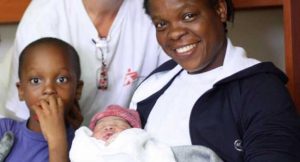 A healthy baby boy has been born to a Nigerian woman, aboard a rescue ship in the Mediterranean Sea.
The parents, Otas and Faith Oqunbor, had been rescued from an overcrowded rubber boat.
They had been making the journey across the sea, with their two other children, aged seven and five, and were rescued just 24 hours before the baby, whom they named Newman Otas, was born.
MSF communications officer, Alva White took to Twitter on Monday to report the baby's birth.
"Just over an hour ago a baby boy was born on board the Aquarius. Mum, bub, dad and two big brothers are all well," she said.
Mrs Oqunbor said that she had experienced contractions for three days.
Medecins Sans Frontier said that because baby Otas was born on international waters, his nationality is still debatable," the gorgeous little guy was born in international waters so his nationality is still under discussion."
At least 392 people had been on the same boat with the Oqunbors before the rescue. Seven of them were pregnant.