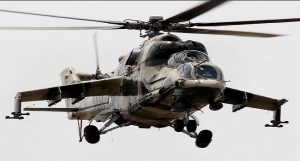 The Nigerian Air Force says a Boko Haram terrorist location has been struck down in Borno State.
The strike was made at the Tagoshe/Mandara mountain area which is about 10 kilometres from southwest of Gwoza in the state in Nigeria's Northeast.
According to a statement signed by the Air Force spokesman, Group Captain Ayodele Famuyiwa, the strike was a follow up of intelligence and surveillance operation by the Nigerian Air Force.
Group Captain Famuyiwa further stated that remnants of fleeing Boko Haram terrorists were also gathered at the location while other security forces have been called in to strike the location.
He added that the follow up battle damage assessment confirmed the air strike was successful as shown by the enclosed classified footage of the operation.