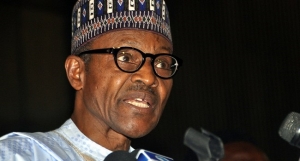 Nigeria's President-elect, General Muhammadu Buhari, has expressed disappointment over the hiring of South African mercenaries by the Nigerian military authorities to confront the Boko Haram insurgents in the north-east.
General Buhari wondered why the military was incapable of ending the insurgency in just 14 out of the 774 Local Government Councils in Nigeria's north-east, without the assistance of the South African mercenaries.
At a meeting with the National Executive Council of the Arewa consultative Forum (ACF) in Kaduna on Tuesday, Buhari said on assumption of office, his administration would concentrate on four major areas which include insecurity, economy, unemployment and corruption.
He added that his administration would also ensure that every Nigerian would live within his means or earnings, noting that a situation where people live above their earnings would not be tolerated.
Earlier in his address, ACF chairman and retired Inspector General of Police, Ibrahim Coomassie, told Buhari that Nigerians voted for him because they believed in his integrity, knack for transparency, accountability, honesty and commitment to security of lives and property.
Mr Coomassie further stressed that Nigeria had never experienced the level of decay, collapse of moral values, high level of corruption, crime, unemployment and impoverishment of the citizenry like in the last six years.