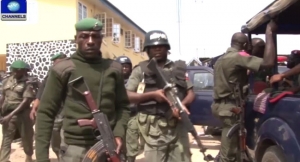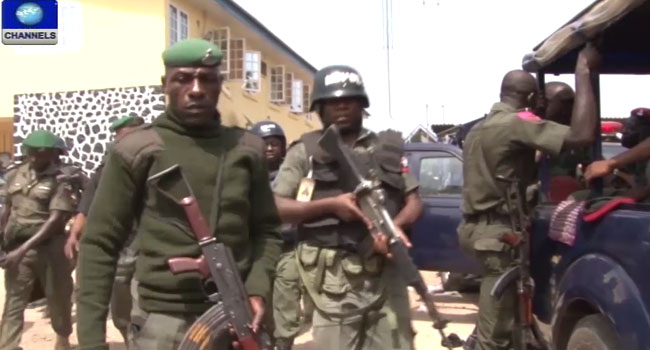 Police arrested five of the suspects involved in the midnight raid on Nimbo community in Uzo-Uwani Local Government Area of Enugu State on April 25, the spokesman for the Nigeria Police Force said.
Mr Olabisi Kolawole said that the arrests were made by the operatives of the Inspector General of Police's Intelligence Response Team (IRT) based on credible technical intelligence.
In a statement, the spokesman for the police listed the arrested suspects as Mohammed Zurai, Ciroma Musa, Sale Adamu, Suleiman Laute and Haruna Laute.
Video Recording
The team also recovered one Gionee L88 mobile phone with memory card containing the video recording of the massacre in the community.
Armed herdsmen had attacked the community in April, killing scores and leaving several others injured.
Mr Kolawole also said that the police some weeks ago busted a three-man syndicate suspected to be bank robbers/kidnappers and recovered arms, ammunition, dynamites and rifle servicing tools from them.
The gang members, Gogo Daniel Ume, Ikado Michael and Ifeanyi Kalu had been terrorising Rivers, Imo and Enugu State, respectively.
Items recovered from them include three AK-47 rifles,  one LAR rifle, 310 rounds of live ammunition, 12 rifle magazines, rifle servicing tools, cache of dynamite explosive, one Toyota Highlander Jeep, one Toyota Venza jeep and one Ford Edge Jeep.
In continuation of the IRT anti-kidnapping operations in Kaduna State, the team on May 20 also arrested Babangida Ibrahim, Idris Abubakar and Idris Mai Anguwa in the State for alleged involvement in kidnapping and robbery while different calibre of weapons were also recovered from the bandits.
The Inspector-General of Police, Solomon E. Arase, said the IRT relied on vital information made available to the Police by the public and attributed the recent break-through to the growing trust and cooperation between the Force and the public.
The police boss assured Nigerians that the force would remain dynamic and creative in formulating new strategies for fighting crimes and criminality and urged Nigerians to continue to support the force.