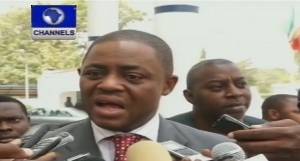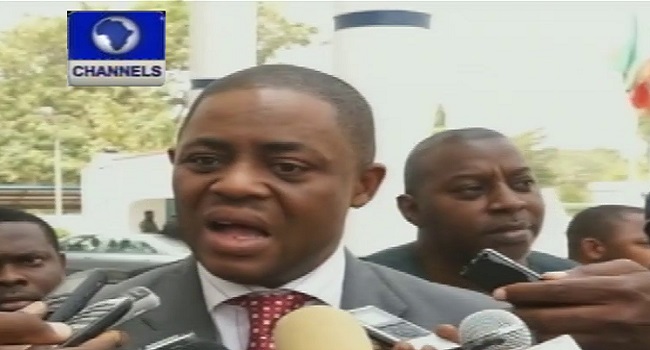 The Goodluck-Sambo 2015 Campaign Organisation has distanced itself from a controversial newspaper publication campaigning against the candidacy of the presidential candidate of the All Progressives Congress, General Muhammadu Buhari, which was sponsored by Governor Ayo Fayose of Ekiti State.
The Director of Media for the campaign office, Femi Fani-Kayode told reporters in Abuja on Tuesday that "the Peoples Democratic Party believes in the sanctity of life and does not wish the retired general any ill will.
He also said Governor Fayose of the Peoples Democratic Party (PDP) was a respected member of the party and the advert was his opinion.
The publication on the frontpage of a popular Nigerian newspaper had been criticised by Nigerians on social media, with much of it focusing on the sponsor.
"What I can tell you is that this has not represented the opinion of the Presidential Campaign Organisation or the President.
"He is a leading member of our party. I have spoken with him, but for anybody to suggest that this is the position of the Presidential Campaign Organisation or President Goodluck Jonathan, that would be most unfair.
If we wanted to say something like that we will say it without any kind of apology.
"We would never say this," Mr Fani-Kayode said.
He emphasised that the PDP believed in the sanctity of life and recognised the fact that age was not an indication of how long someone would live.
"We believe strongly that we must continue to show immense respect to the person of General Buhari in terms of his person and his health.
"Though we believe it is important for us to raise questions about facts and you know what those questions are and we will continue to raise those questions. We do not wish him dead. We wish him long life and we believe strongly that such sentiments can be aired by individuals but certainly not in our names," the campaign organisation's spokesman said.
He further said that the publication never contained any information that linked it to the President, stressing that the publication was Governor Fayose's opinion.
The PDP has requested that General Buhari should present his primary school leaving certificate to the electoral body as stipulated in the Nigerian Constitution.