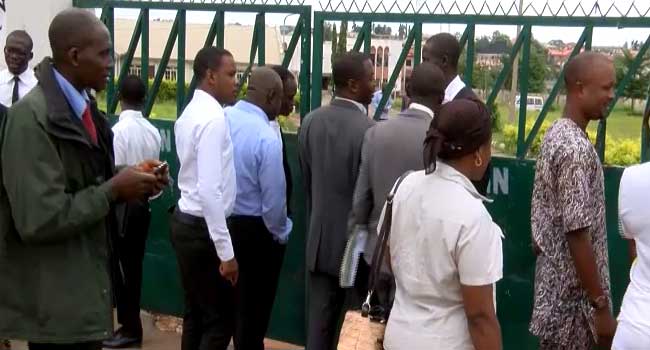 Workers in Ogun State have agreed to suspend their two weeks industrial action over non-payment of deductions and other demands.
The resolve was reached on Wednesday after a closed door meeting which lasted for about nine hours between the national and state leaders of the organised labour and State government.
Governor Ibikunle Amosun briefed reporters on the outcome of the meeting in Abeokuta, the Ogun State capital in southwest Nigeria.
He reiterated the commitment of his administration towards better conditions of service for the state workforce.
In his submission, the National President of the Nigeria Labour Congress, Ayuba Wabba, commended the two sides for the maturity that led to the signing of the Memorandum of Understanding aimed at resolving the impasse.
The civil servants had on October 20, commenced an indefinite strike to press home their demands over an alleged non-payment of 12 months deductions.
Among other demands, the industrial action was also aimed at putting an immediate end to the contributory pension scheme.
The workers began the strike after Governor Amosun had sent a strong warning to the leadership of labour unions in the state.
The governor had also lauded the people of the state for their understanding and the support shown towards his administration's policies and programme.
He assured them of more development in the state in the coming fiscal year.