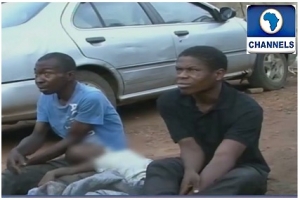 Two men have been arrested by the Nigerian Security and Civil Defense Corp (NSCDC), Abia State Command in connection with the mysterious death of a little girl.
They were arrested on Thursday, at Ariaria junction in Osisioma Ngwa LGA axis in Aba, the commercial hub of the state carrying a sack containing the lifeless body of the dead girl. They argued  on top of their voices and this attracted the attention of the public and passers-by, who on getting there discovered that the sack they were carrying contained a dead body.
The public started to mob the men involved as the second man claimed he was helping out until the NSCDC intervened and took the men to their headquarters at Umuahia. On getting there, a most horrific sight was shown of a lifeless body of  a little girl with hospital intravenous gadget around the neck and in the hand.
The State Commandant of the NSCDC, Andy Dateer, described the act and circumstances surrounding the alleged murder of the little girl as barbaric and inhuman. He hinted that the matter would be transferred to the appropriate authorities for further investigations.
The public gathered to get a glimpse of the dead girl and the men allegedly involved while on interrogation and one of the men claimed that he did not commit any crime but was helping the father of the dead girl to discard the body.
According to him, the father of the dead girl contacted him and paid him the sum of 2,000 Naira to throw away the body because he (father) could not afford the money to bury her after she died at an undisclosed hospital and in the process of carrying out the wish of the man he knew nothing about, the hand of the law caught up with him.
However, the intriguing part in all these, is that there was no death certificate from the hospital at the time of arrest, and the time and place or the hospital that the incident happened and who the father of the dead girl is could not be traced.