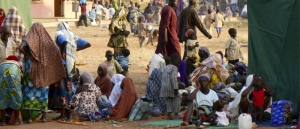 The Independent National Electoral Commissions says Internally Displaced Persons (IDPs), who are not in government camps in the north eastern states of Adamawa, Borno and Yobe, will not participate in the February elections.
According to the Chairman of the INEC, Professor Attahiru Jega, lack of accurate data for the IDPs living in informal camps within and outside those states had made it impossible for INEC to plan for them in the elections.
The INEC boss made the clarification in Abuja on Tuesday at a meeting with representatives from the states with affected persons.
The United Nations High Commissioner for Refugees Representative in Nigeria, Angele Dikongue-Atangana, had put the number of IDPs in Nigeria's north-east at  650,000.
Majority of the displaced persons were displaced as a result of insurrections in region by members of the Boko Haram terrorist group. The over five years insurgency has also forced some persons in the region to flee to neighbouring Niger and Chad  for refuge, while others are in camps not under government control.
Professor Jega analysed the commission's preparedness to conduct elections in the states – Adamawa, Borno and Yobe – stressing that the commission had made provision for only IDPs living in formal camps to participate in the February polls.
Some governors from the affected north-east states insisted that security issues should not be underplayed even if it would mean shifting the elections date.
But the Governor of Borno State, Governor Kashim Shettima, insisted that no electorate should be denied the right to vote under any guise.
Other representatives expressed concerns over the possibility of incumbents using the IDPs to their own advantages.
Having listened to the submissions from these stakeholders, the INEC is expected to make some adjustments and come up with a better template for the IDPs during the elections.